I removed some of the leaf radish plants from the polytunnel yesterday as they were running to seed. I'm now using that space for my peas for shoots, sown on 5th and 19th February. I've set the plugs from the cells out on a 6″/15cm grid. Possibly they could have gone closer as I don't think I had any cells where all three peas that were planted germinated. Most managed two plants, but in some cases there was only one that germinated, or even none at all in a couple of cases.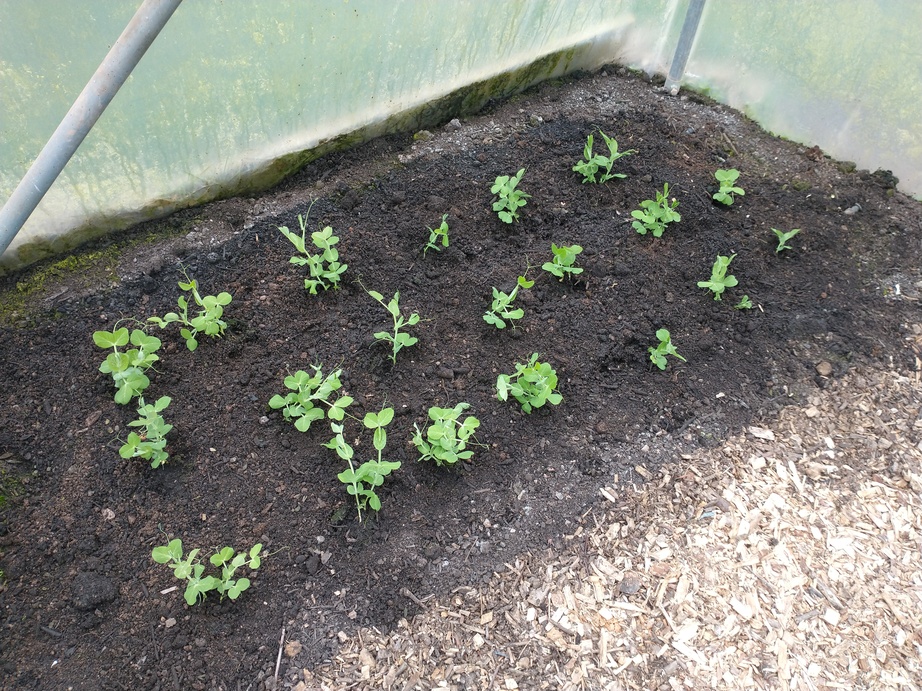 It's my intention that these plants will stay where they are until it's time to plant out my peppers when I'll clear them and use the space once again, though I'm not sure that will be until the start of May.
Despite the cold north-easterly wind I hoed off a small section of one of the outdoor beds and took the opportunity to plant my "first early" International Kidney potatoes. They've gone into the compost at roughly a trowel's depth and on a 40cm (16″) grid which gives me three plants across the 1.2m (4ft) bed. Hopefully by late June or early July at the latest we should have our first new potatoes.
And finally I did a second thinning of the lettuces and other salad leaves that I have in modules (sown on 21st February) to reduce them to one plant per cell. Once they've developed a little further they'll be joining the peas in the polytunnel.