These images were taken over a period of three or four nights at the start of March 2012. They were all captured using an SPC880 and Mak 127 with SharpCap and processed in Registax. All were 3000 frames stacked from 6000.
This first, captured using a Revelation 2.5x barlow, I'm quite pleased with. The shrunken polar ice cap is visible, as is a cloud over Olympus Mons.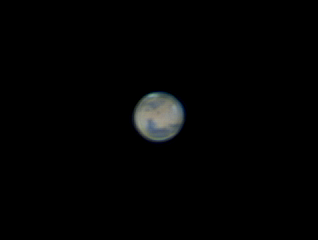 Capture settings:



Frame Rate (fps)=10.00
Colour Space / Compression=I420
Exposure=-4
Brightness=57
Contrast=32
Saturation=0
Gamma=0
ColorEnable=255
BacklightCompensation=0
Gain=15

This second image was taken with a TeleVue 3x barlow a little more an fifty minutes later. I think it's possible to see a small amount of rotation of the planet: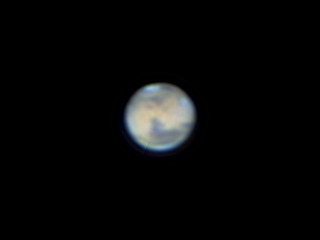 With the exception of Gain which was raised to 36, the capture settings were the same as for the previous image.
A couple of nights later there's a better view of the Olympus Mons cloud cover: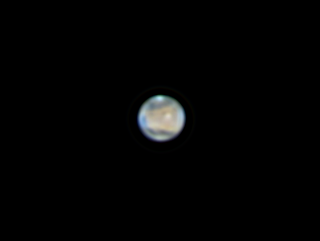 Two more nights on and the cloud has almost disappeared. It's quite a boring view of Mars, really: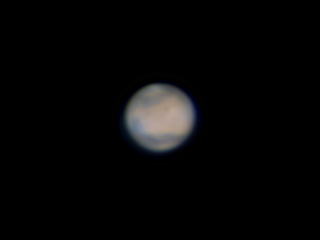 I think these four images may be the best I can do with the SPC900 and 127 Mak. If I try to go to a larger image scale with something like a 4x barlow then I just end up with problems because a very small amount of mirror shift during focusing takes the image off the sensor. These are all 127 Mak, 2.5x barlow + extension, 3000 out of 6000 images stacked. Capture details after the image: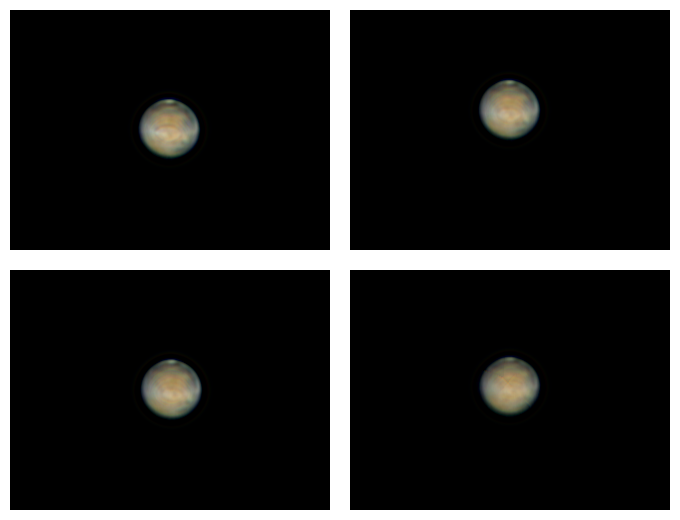 [Philips SPC 900NC PC Camera]
Frame Divisor=1
Resolution=640x480
Frame Rate (fps)=10.00
Colour Space / Compression=YUY2
Exposure=-4
Brightness=65
Contrast=32
Saturation=0
Gamma=0
ColorEnable=255
BacklightCompensation=0
Gain=15
This one, taken on 21/04/2012 shows Mars well into its gibbous phase. It needs a bit more gain now it's well beyond opposition, but it does look like the icecap is enlarging quite quickly: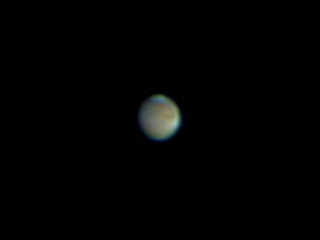 Settings:



[Philips SPC 900NC PC Camera]
Frame Divisor=1
Resolution=640x480
Frame Rate (fps)=10.00
Colour Space / Compression=YUY2
Exposure=-4
Brightness=64
Contrast=32
Saturation=0
Gamma=0
ColorEnable=255
BacklightCompensation=0
Gain=25