Last winter I grew salad leaves in the greenhouse, in mushroom trays lined with newspaper and filled with compost.
This year I intend to plant most of the plants for winter salads in the polytunnel and no-dig greenhouse once the summer crops are done, but I want to have another crack at growing in mushroom trays as well just to see if I can do it better this time around. I wasn't completely happy with the newspaper lining as it tended to fold over as the compost sank and leave hiding places for slugs and snails. It also meant I could only use compost to the minimum height of the tray sides and as the plants will be in these trays for close to six months without feeding, I wanted to get as much compost in as possible. And in fact as I don't buy newspapers I'm reliant on others to supply them, which may not always be an option in the future.
A couple of days back I was sorting through my "cardboard stash" (no wonder there's a world shortage of packaging cardboard at the moment — it's all under my veggie plot) in preparation for making some more woodchip paths when it occurred to me that I could try to use cardboard to line the trays instead. This evening I dug out some trays and a few bits of cardboard and had a go. There's no denying that it's more of a faff to get done, but it's not that bad really and hopefully it will pay back in the long run (in fact with a stanley knife and a board to cut on it could be done rather more quickly than I did it on the kitchen table and using scissors). I now have five trays like this: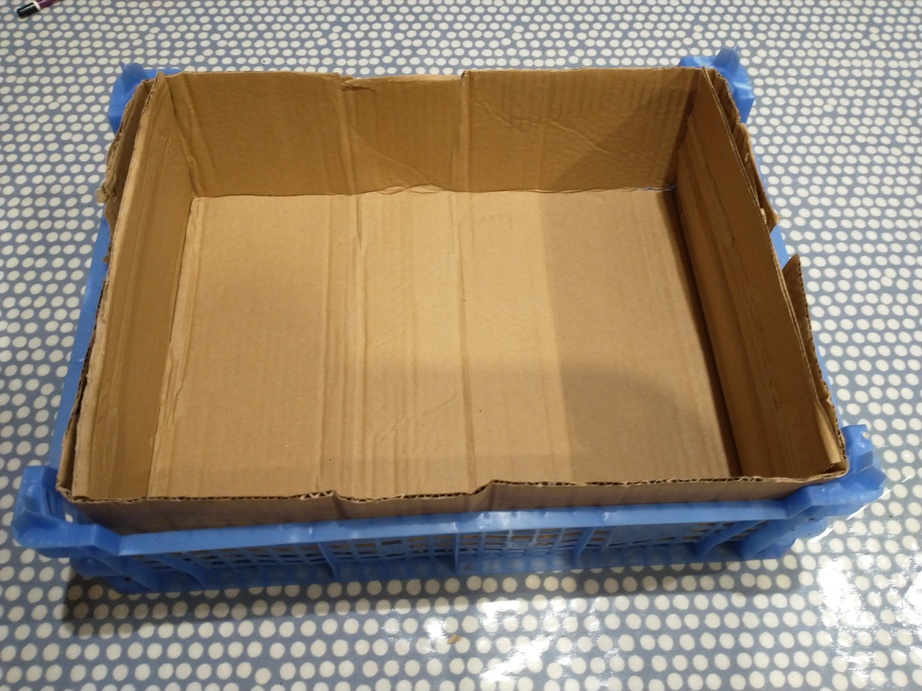 And I'll fill them with compost and plants tomorrow if I have time.
It's a bit of a shock getting back to this point in the season again. I'm really not sure where the last year has gone.