For pressing my cider apples I decided I couldn't justify the price of even the smaller commercially-produced presses and after a fair bit of research I felt I could build one myself that should do an acceptable job. As it worked out, the first one I built worked ok, but really wasn't strong enough to withstand the twelve tonne bottle jack I'm using to drive the press, so I've rebuilt another to the same plans but with heavier-duty components.
The first job was to build the frame. It's constructed from 6″x2″ planed square edge timber glued together and secured with 12mm threaded steel rod and large square washers: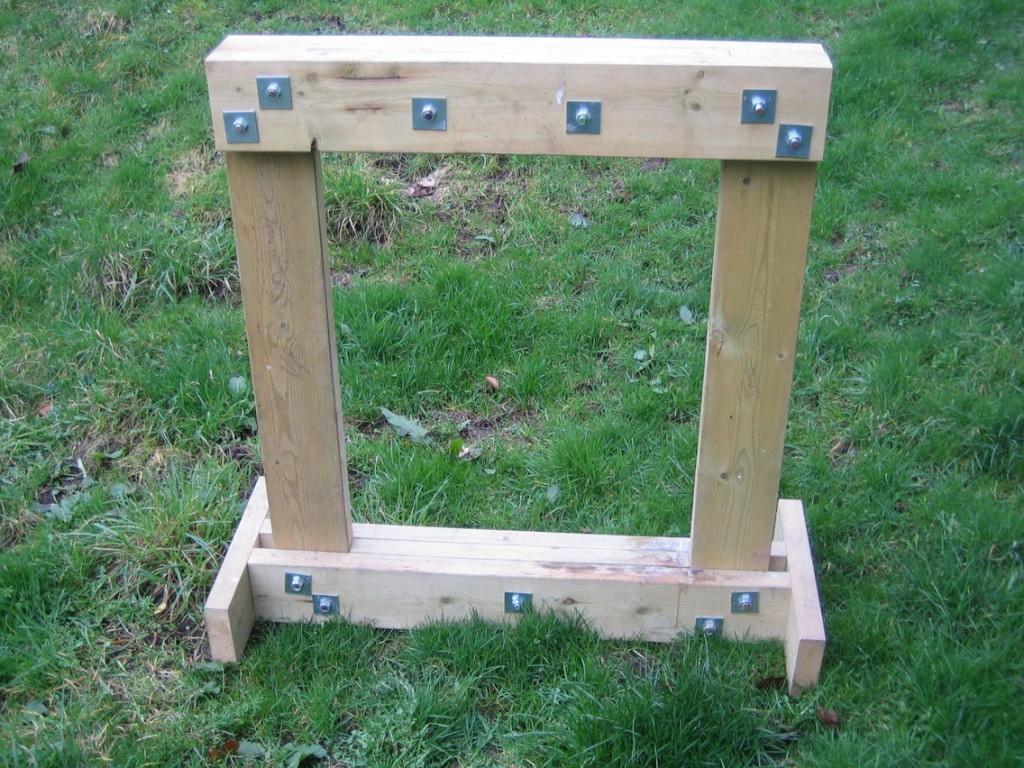 The cutting list is:
2 x 100cm for the outer base sections
2 x 92cm for the outer top sections
2 x 64cm, one for the centre base and top sections
2 x 109cm for the uprights
2 x 40cm for the "feet"
I started by laying out an outer base and top section and gluing the base and top centers and uprights to them to form a rectangle, holding all the parts together with clamps whilst I fixed the remaining top and bottom outer sections and again clamped them in position. I could then drill out all the holes for the threaded rods which I cut to length and bolted up. I chose to put two rods through each of the corner joints, one through the centre of the base (where the pressing load will be well spread out by the press tray) and two to strengthen the top beam (where the load from the top of the bottle jack is distributed over a much smaller area). That done I left everything to dry.
The final step for the frame was to attach the "feet" to the protruding ends of the base which I did with eight 4″ #10 screws.
Because of the large timber sizes and the additional metalwork, the press frame is heavy. I'd guess around 25kg to 30kg. I'd say it's about the minimum for pressing apples in the kind of volumes I'm after though.
Next, the press tray.