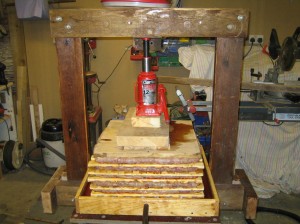 Behind our house are a small number of cider apple trees around twenty-five years old. Three of these I have identified as Yarlington Mill, two are Dabinett, four are, I'm fairly sure, Somerset, and the remaining three I have not been able to identify, though they're definitely Jersey-type apples. Yarlington Mill and Dabinett are pretty good cider varieties. The Somerset trees are prolific, but don't produce particularly good quality juice.
The last couple of years there haven't really been enough apples to be worth pressing, but this year I managed to collect around 40 sacks full. Pretty much all of these (which I estimate to be in the region of 700 to 800kg in weight) came from the Yarlington Mill and other Jersey type trees. At the start of November I got to work pressing them using my Vigo crusher and home-built bottle jack-driven press.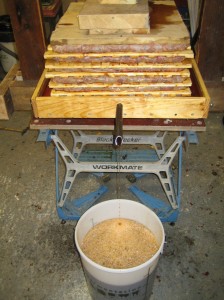 By the end of November I'd pressed around 600kg of apples to produce in the region of 300 litres of juice which I've split between two 220 litre barrels in the workshop. I also added a couple of dozen litres of juice from some Bramley apples to try to raise the acidity a little as all the others are bittersweets. To kick off the fermentation I also added some cider yeast. Unfortunately the remaining apples froze solid (the temperature did get down to -10C at some points) and by the time it was possible to press them they were little more than mush.
Due to the very cold weather throughout December (the coldest in 100 years, I'm sure it was announced on the news) the fermentation has been exceptionally slow. I'm hoping it will pick up again as the weather starts to warm up as we reach the end of winter.